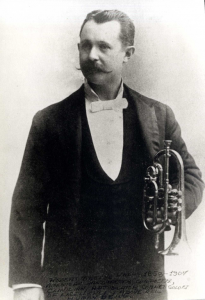 The Maine Pops Concert Band is inviting musicians from throughout the State of Maine to join them in a virtual performance in conjunction with R.B. Hall Day day.
With the cancellation of annual R.B. Hall festivities for the second straight year, the Maine Pops - under the direction of David Watts - is recruiting musicians from the state's community bands, to record a virtual performance of the "New Colonial March."
R.B. Hall Day is a Maine State celebration of the life and contributions of Robert Browne Hall: composer, director, cornet virtuoso, bandmaster and Maine native. With many in-person events cancelled, this on-line virtual event lets us celebrate together from our own homes.
According to Maine Pops Concert Band president Bob Swerdlow, the band is hoping to include players from all of Maine's community band and musical organizations.
Swerdlow emphasized that virtual band experience is not needed to participate. "Even if this is your first virtual band, we will make it easy," said Swerdlow, adding that the Maine Pops has been producing virtual concert pieces since the 2020 Christmas holiday season. "It may seem daunting, but you can do it!"
Those wishing to participate should already have everything they need to participate. The items include your instrument, a music stand, a computer or tablet with headphones to play the reference track, and a device to record your performance.
Swerdlow said there are three steps in the production process: practice, submission of a test video for sound, light and performance checks, and a final video. There is no cost to participating musicians to submit performances: the The Maine Pops Concert Band is donating its time and experience to the effort. "All you have to do is participate."
Musicians interested in this R.B.Hall effort should sign up now at: https://docs.google.com/forms/d/e/1FAIpQLScPQ1maOED_X6uxnXPhzhJEz3CHUb6pAxCWuf6mSdROipg3rw/viewform. Once registered, players will be sent instructions to obtain the music, receive suggestions for in-home recording, and obtain the hyperlinks needed to submit test tracks and final recordings.
The first deadline - test videos - is May 23. All final videos are due on June 6 and the release of the combined band performance will be June 26 - the traditional R.B. Hall observance on the last Saturday of June.
For more information, please email Bob Swerdlow at president@mainepops.org.