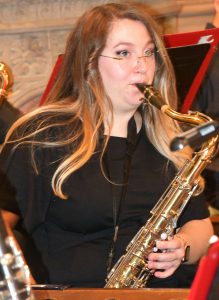 Welcome to The Maine Pops Concert Band.
The Maine Pops Concert Band serves the greater Portland, Maine metro area with one of the larger community bands in the state. The band has successfully completed its 2021-2022 fall, holiday and seasons that marked its return to the performance stage after a nearly two-year absence.  It is now rehearsing for its 2022 summer season.
The health and safety of our musicians and our community regarding COVID-19 will continue to impact our mission to our community. The Maine Pops Board of Directors will continue to assess the COVID-19 environment as the band resumes rehearsals.
As of the end of December, the Maine Pops Concert Band has nearly 60 registered musicians for the 2021-2022 season.  The band's membership drive continues to bring back Maine Pops musicians to pre-pandemic levels and recruit new members to the ensemble. Those interested in joining can go to The Band – Maine POPS Concert Band.
Although the COVID-19 pandemic cancelled all 2020-2021 season live performances, the Maine Pops stayed musically active using virtual performances to keep its members playing. The band released a virtual Christmas concert in December of 2020, then spent the spring of 2021 in virtual rehearsal, releasing five single performances between February and June. In all performances, band members recorded their parts at home and submitted tracks for production. The Maine Pops returned to in-person rehearsals in July of 2021, ending 16 months of pandemic seclusion with a nine-week summer rehearsal season in Falmouth. About a third of the current membership spent the summer reuniting with fellow musicians and regaining their musical endurance in preparation for the 2021-2022 season.
For more information on our continued musical mission, reach out to Bob Swerdlow at president@mainepops.org.
---