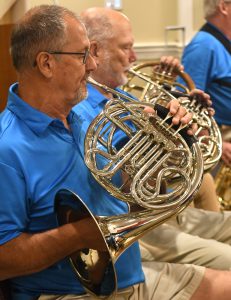 WELCOME TO THE MAINE POPS CONCERT BAND
"BUILDING COMMUNITY THROUGH MUSIC"
The Maine Pops Concert Band serves the greater Portland, Maine metro area with one of the larger community bands in the state. It is celebrating its 35th anniversary this year.
The band has successfully completed its 2023 summer season, performing two benefit concerts for retirement centers in Portland, and three public concerts in Portland, Falmouth and Cape Elizabeth.  The band was also honored to perform during ceremonies held August 10 to commission the U.S. Coast Guard Cutter John Patterson in Portland.
Rehearsals for the 2023 Fall Season began September 6 at Scarborough High School.
The Maine Pops Concert Band continues its recruitment of musicians in Maine and New Hampshire to join or rejoin the band as part of its rebuilding effort following the coronavirus pandemic.  The band has nearly 80 musicians registered, close to the membership numbers held prior to the pandemic.  The band is in great need of clarinet, oboe, French horn, trumpet, trombone and percussion players, but is also accepting members who play other instruments.  No auditions are required. Those interested in joining can go to The Band – Maine POPS Concert Band.
Although conditions have improved greatly, COVID-19 is still present in Maine, and the health and safety of our musicians and our community regarding COVID-19 will continue to impact our mission to our community. All members must be up to date with their COVID vaccinations, based on the CDC's definition as "completed a COVID-19 vaccine primary series and received the most recent booster dose recommended for you". The Maine Pops Board of Directors will continue to assess the COVID-19 environment as the band performs and will make rehearsal and scheduling modifications based on current CDC and Maine state guidelines.
For more information on our continued musical mission, reach out to Bob Swerdlow at president@mainepops.org.
---