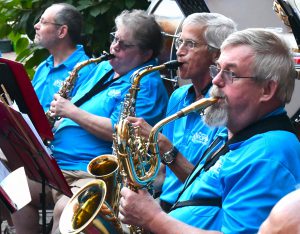 Who We Are
The Maine POPS Concert Band -- formerly known as the Italian Heritage Center Concert Band -- has been active since its founding in 1988 by Richard A. Capozza.
Today the band has close to 70 active members, ranging from high school students to retirees, and from all walks of life. The band performs about 10 concerts a year. These performances normally include a fall concert, a series of holiday appearances, a spring performance and various community summer concerts.
During the summer months, the Maine Pops traditionally participates in the annual R.B. Hall Festival held on the final Saturday of June, and travels to perform at a series of concerts venues. These include such venues as the Deertrees Theatre in Harrison, the Bath Gazebo, and at Portland locations such as The Atrium, 100 State Street, at Portland Sea Dogs baseball games at Hadlock Field and Deering Oaks Park.
![](https://mainepops.org/wp-content/uploads/2022/12/2022-12-11-Maine-Pops-Christmas-St-Lukes-026-300x202.jpg)
The band plays a diverse selection of music, including pop and show tunes, big band jazz, patriotic favorites, symphonic melodies and marches by American masters.
The group also enjoys inviting outside groups to be a part of our performances.
Special guests have included Toshi Shimada, former conductor of the Portland Symphony, Dr. Peter Martin, Director of Music at the University of Southern Maine, members of the Southern Maine Children's Choir under the direction of Lise Dunn, The Atlantica Sax Quartet, Maine Ballroom Dancers. The Blueberry PANCakes Steel Drum Band, vocalists from the USM School of Music, and the Italian Heritage Center Chorus.
The band has long participated in the "Music in Our Schools" initiative; a mentoring and outreach program working in collaboration with local schools. In the past, band members have been involved with both Saco and Falmouth Middle School band programs, holding annual concert events with students in those band programs.

How to Join
NO AUDITION TO JOIN THE MAINE POPS CONCERT BAND!

The Maine Pops Concert Band accepts players of all nationalities, creeds, ages and occupations. We are always looking for new members. No auditions are required!!

The band is continues to accept registrations for the spring segment of the band's 2022-2023 performance season. All current and potential band members are encouraged to register and submit their annual dues for the season. Applicants can go online at: https://forms.gle/pxLK58t7nEVzj9gT7 or download a printable form (https://drive.google.com/file/d/10zpsmmfonxXMu4O_L1YWHfthPafeBEpd/view) and submit their registration at a rehearsal. Details for submitting dues are included.

Rehearsals are normally held Wednesdays, 7 to 9 p.m. at the Scarborough High School Band Room, 11 Municipal Drive, Scarborough, Maine - September through June.

If you are a high school or college graduate just out of school who is looking for a place to keep playing that instrument, someone who just found their horn in a closet and thinks they'd like to play again, or you just want another band to play in, come give us a try!

Contact Bob Swerdlow at president@mainepops.org for more information.