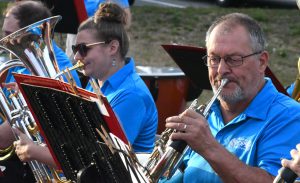 Thank you to our entire community for your generous support
As a community band serving the Greater Portland area, the Maine Pops Concert Band takes great pride in providing a variety of concert music to a wide range of people. The band conducts annual fall and spring concerts, participates in community benefit concerts to raise money for local charities, and perform in summer concerts for our regional audiences.
As a non-profit organization, the band continues relies heavily on membership dues, fundraising efforts, and the generosity and support from the community we serve. On December 1, 2022, the band released a letter requesting donations from local businesses, organizations and residents in our communities. The letter can be viewed at: [Maine Pops 2023 Donation Appeal Letter](https://mainepops.org/wp-content/uploads/2022/12/Maine-Pops-2023-Donation-Appeal-Letter.pdf "Maine Pops 2023 Donation Appeal Letter")
Musicians continue to conduct fundraising projects, but we rely to our community business sponsorships and independent citizen donations to help us support our band ao we can serve our communities. Whether it be a musical or financial donation, a commitment to provide administrative services, or a venue to rehearse and perform, your generous support keeps your community band operating for the betterment of our citizens.
To become a sponsor, please email Bob Swerdlow at president@mainepops.org
Remembrance Donations
The Maine Pops Concert Band is honored to have received memorial contributions and donations in remembrance of past and current band musicians, based on the wishes of the families of our departed members.
In the last year, families of those band members lost have asked that in lieu of floral donations, patrons are asked provide a memorial contribution to the Maine Pops Concert Band. The contributions are to honor each band member's love of music performance with the organization that has instilled great pride, provided lasting enjoyment, and contributed to the enhancement of music participation in the community. The donations are used to fund projects and purchase items in memory of our departed colleagues.
We have also received donations to enhance our music library, and to support our overall mission of fostering community through concert band music.
Individuals wishing to donate funds in memory of Maine Pops Concert Band members should contact the MPCB Treasurer for details on submitting remembrance contributions.
*The Maine Pops is a 501(c)3 educational non-profit corporation. Contributions may be tax-deductible.*