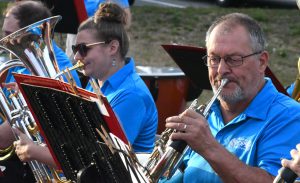 Thank you to our entire community for your generous support
As a community band serving the Greater Portland area, the Maine Pops Concert Band takes great pride in providing a variety of concert music to a wide range of people. The Maine Pops is back to conducting in-person rehearsals and preparing for the 2022-2023 concert season.
The Maine Pops Concert Band continues to take the necessary steps to safely reunite our communities with the sounds of popular, classical, jazz, and concert march music.
As a non-profit organization, the band continues relies heavily on membership dues, fundraising efforts, and the generosity and support from the community we serve. Musicians continue to conduct fundraising projects, but we rely to our community business sponsorships and independent citizen donations to help us support our band to the citizens we serve. Whether it be a music or financial donation, a commitment to provide administrative services, or a venue to rehearse and perform, your generous support keeps your community band operating for the betterment of our citizens.
To become a sponsor, please email Bob Swerdlow at president@mainepops.org
We would like to recognize our list of sponsors who have generously contributed to the band's efforts prior to and during the pandemic. Now that we are actively rehearsing again, the band would welcome more community businesses and individuals as sponsors to help our recovery effort. We thank you all for believing in the value of arts in the local community - you make sharing music a possibility!
Silver Sponsors
Custom Interiors
Headlight Audio Visual
Publishers Clearing House
Bronze Sponsors
Cape Veterinary Clinic
David Kerr, DDS
Palmer & Krause Dentists
Troiano Waste
White Mountain Orthodontics
Community Donors
David & Kathleen Gowan
Al Ripa
Special thanks to Graphic Designer
Brandon Smith
Remembrance Donations
The Maine Pops Concert Band is honored to have received memorial contributions and donations in remembrance of past and current band musicians, based on the wishes of the families of our departed members.
In the last few months, the families of band members have asked that in lieu of floral donations to instead provide a memorial contribution to the Maine Pops Concert Band. In 2022, the band received donations in memory of past band musicians Suzannah McWilliams, Ernie Carmoli, Lindsey Allard, and Chuck Hornberger.
The contributions are to honor each band member's love of music performance with the organization that has instilled great pride, provided lasting enjoyment, and contributed to the enhancement of music participation in the community. The donations are used to fund projects and purchase items in memory of our departed colleagues.
We have also received donations to enhance our music library, and to support our overall mission of fostering community through concert band music.
Individuals wishing to donate funds in memory of Maine Pops Concert Band members should contact the MPCB Treasurer for details on submitting remembrance contributions.
The Maine Pops is a 501(c)3 educational non-profit corporation. Contributions may be tax-deductible.