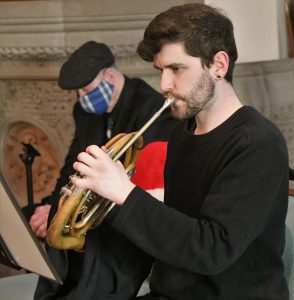 The Maine Pops Concert Band will perform its final Christmas holiday benefit concert on Wednesday, December 15, beginning at 7:30 p.m.
The band will perform "Charity Christmas Concert" at Mountainside Community Church, located at 18 Mountain Road in Falmouth, ME. This in-person concert resumes the long-standing concert cooperation between Mountainside Community Church and the Maine Pops; an effort conducted as a virtual event last year during the COVID-19 pandemic. The performance benefits Mountainside's fundraising efforts focused toward collecting funds for the homeless in Portland.
The concert is being live-streamed by Mountainside Community Church and will be available at 7:30 p.m. at https://www.mountainsidecc.org/concert-livestream.
The music for this concert includes a medley from "The Polar Express," Richard Saucedo's arrangement of "Dashing Through the Snow," "Silver Bells," John Cacavas' arrangement of "Christmas Music for Winds," Gustav Holst's "On this Day Earth Shall Ring," John Lovrien's "Minor Alterations" and Leroy Anderson's "Sleigh Ride." The band selected ten compositions for performance, and may add a couple selections from its Fall 2021 concert.
In conjunction with the health and safety requirements of Mountainside Community Church all attending guests must wear masks during the band's performance. Doors will open to the public at 7 p.m.
The Maine Pops Concert Band is a 501(c)3 educational non-profit corporation. Individuals and organizations wishing to become a band sponsor should contact the band president at president@mainepops.org. Contributions may be tax-deductible.