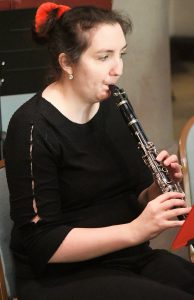 The first of three final 2022 concerts by the Maine Pops Concert Band will take place on Sunday, November 20, at 2:30 p.m. at St. Luke's Cathedral, located at 143 State Street in Portland.
"Maine Pops Unplugged" is the theme of band's annual fall concert, with 11 compositions slated to provide a wide variety of music for attendees of ages. The featured concert selections will include a couple of medleys featuring music from Adele and Tony Bennett, a big-band favorite, movie and television themes, and a concert march.
The band – under the direction of David Watts – is now approaching 35 years of community service to the Greater Portland area and reaching out to its audiences by "Building Community Through Music." Following a successful summer concert series, the band is taking on new music and new challenges to provide community residents with memorable performances while continuing to recruit musicians into the organization.
"This season we are excited to welcome quite a few new players into the band," said Watts. "As folks have moved around the state and the country, they've brought a wealth of musical talent with them. This has only enhanced the sound of Maine Pops as we continue to rebuild and welcome musicians back into our ranks after the COVID shutdowns."
Watts said the fall concert is programmed to explore some of the big names in music over the last century and beyond, such Glenn Miller, John Phillip Sousa, Samuel Barber, Adele, Vaughan Williams, and Tony Bennett. "We hope to introduce you to some rarely heard pieces from well-known composers, as well as contemporary takes on classic folk songs," said Watts. "And adding to it all are some thrilling - and perhaps even chilling - sounds from TV and film. With all of this, we bring you Maine POPS, Unplugged!"
The concert is open to the public, with donations of $10 per person accepted at the door to help defer operating costs for the performance.
Holiday Benefit Concerts in December
Once the fall concert is complete, the Maine Pops will quickly move into holiday mode and prepare for two Christmas benefit concerts in December. On December 11, the band returns to St. Luke's for a 2:30 p.m. concert. The performance continues a long tradition of holiday concerts between the Maine Pops and St. Luke's, with proceeds going to the church's humanitarian efforts in and around the Portland area.
The band will conclude its holiday season with its second holiday concert on Wednesday, December 14 at the Mountainside Community Church, located at 18 Mountain Road in Falmouth, ME. As with the St. Luke's holiday concert, proceeds from the Mountainside performance will go to humanitarian efforts in the Portland region.
For more information, please contact president@mainepops.org or sbarrett@mainepops.org.
The Maine Pops is a 501(c)3 educational non-profit corporation. Contributions may be tax-deductible.