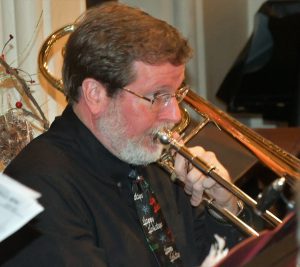 Now that the Maine Pops Concert Band has resumed fall rehearsals, the band is now conducting a pair of initiatives that it hopes not only to increase and diversify band membership, but also solicit musicians to fill volunteer positions needed to conduct the band's outreach and administrative business for the 2021-2022 season.
The annual membership campaign started in late August, soliciting members on the band's 2019-2020 roster to rejoin for the year. In the three weeks since registrations opened, the Maine Pops has registered over 50 members for the season and is looking to not only bring back current members, but also add new faces to mix.
"We know that many of our members are in a wait-and-see mode right now, based on COVID-19 precautions and our reacquiring a permanent rehearsal venue," said band president Bob Swerdlow. "We're doing everything we can to keep our members safe and healthy, and we are working with the schools and with other potential locations so that we can have an indoor facility before the weather gets cold."
Currently, the band is conducting outdoor rehearsals every Wednesday evening from 7 to 9 p.m. at Falmouth Village Park. In the event of inclement weather, the band moves to a back-up indoor venue where musicians are socially distanced and rehearsal breaks are slated.
Swerdlow added that the band has lost musicians over the year to resignations, retirements and moves to other parts of the state and the country. When you combined those losses with the general age of many Maine Pops musicians, the board is increasing its efforts to diversify membership and recruit new members from the local communities.
"We're open to any musician wanting to play in a concert band," said Swerdlow. This includes recent high school and college graduates, and those who have recently moved to Maine and reside in the Greater Portland metro area. "Applicants don't have to worry about passing an audition with the Maine Pops; we're looking for people who can read music and want to play and contribute their talent to our efforts."
To attract some younger musicians, Maine Pops Director David Watts has chosen a variety of compositions for the band's fall concert series that might appeal to them. Selected music for the fall includes "Africa" by Toto; a medley of Bruno Mars hits, selections from the musical "Chicago," and Symphonic Suite from "Star Wars: The Rise of Skywalker." Watts has also selected a Benny Goodman medley, a traditional march, a hymn, and an Eric Whitacre composition for the fall.
Membership registration for the 2021-2022 season can be done online at: https://forms.gle/3T2UBzF6zje3uckUA. A link to the registration form is also available to the weekly "Maine Pops Tribune." Membership is $40 a year, payable this season in $20 installments for fall and spring segments. Details on submitting dues are included in the registration.
Volunteers Needed
While the band prepares for a tentative set of fall concerts in November and December, the band's board of directors is asking members to look at possibly volunteering for some of the positions and committees that keep the Maine Pops operating administratively and historically.
At the first rehearsal of the fall season held September 8 in Falmouth, Swerdlow emphasized that the band is looking for musicians to fill volunteer roles important to the band's continued success. These roles help the board and the band plan for events, conduct outreach to our community, record the organizations history, finance projects, recruit new members, and a variety of other functions. All the band's volunteer needs are listed in Appendix C of the Maine Pops Concert Band Operating Procedure Manual (OPM).
Swerdlow mentioned needing volunteers for a variety of positions. These roles include concert ticket coordinator, personnel manager, newsletter editor, health and welfare coordinator, scholarships, uniform manager, sponsorship coordinator, program advertising, and donation coordinator. Please check the band's OPM to look for a position you'd like to perform.
In addition, the band is looking for a music librarian, who would be responsible for maintaining the Maine Pops' large library of musical selections. The librarian works with the band director and section leaders to acquire, register, distribute and collect sheet music used for each of the band's performance seasons. The librarian would also coordinate with the director and staff on music to purge from library if no longer needed and assists in digitizing sheet music into PDFs for upload to the band's digital web-based library.
There are also committees that members can join and contribute their talents and expertise. The Pops Board formed many of these committees during the 2020-2021 COVID campaign and they remain in place for the new season. These committees include pandemic safety, communications and technology, archives, marketing, finance, concert and rehearsal venue, membership, and operational procedures. Swerdlow is asking members to consider participating in at least one committee.
If you are interested in volunteering for a specific position or in joining a Maine Pops Concert Band committee, please contact Bob Swerdlow at president@mainepops.org.