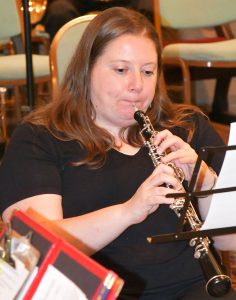 The summer season has arrived, and the Maine Pops Concert Band officially begins its 2022-2023 performance schedule with a series of concerts during June, July, and August.
Like other state community bands which saw their past two summer seasons cancelled due to Coronavirus pandemic, the Maine Pops is returning to a summer performance schedule for the first time since 2019. The band, which serves the greater Portland metropolitan area, will perform selections used during their 2021-2022 fall and spring concerts, plus add traditional march favorites for the outdoor season.
"Our summer season is the time we reach the most people," said Maine Pops President Bob Swerdlow. "It's the part of the year where we share the joy of music during one of Maine's most beautiful seasons."
The Maine Pops Concert Band encourages musicians of all ages – from school-age to senior citizens, and of all abilities to foster a life-long love of music, music history, performance, and our shared heritage. The band provides opportunities for musicians to enhance their musical skills and knowledge and serve the social welfare of our communities through the study, performance, and presentation of concert band music.
Members of the band will be joining with Biddeford's Alumni Band to host a massed band performance in observance R.B. Hall Day on June 25, beginning at noon at the La Kermesse festival in Biddeford. R.B. Hall was a Maine-born march composer who is honored annually on the last Saturday in June. Participation in the band is open to all Maine community band musicians wishing to perform. If interested in performing, please complete and submit the linked form at: https://docs.google.com/forms/d/e/1FAIpQLSfLXU1pEdo5QiTB3oddYtCTjUqu46XZlxqSi9XxhlCnPL7dFQ/viewform.
The band is working to perform summer concerts at retirement communities throughout the Portland region. Concerts venues include for Portland's State Street, Park Danforth, and The Woods at Canco, plus an engagement at OceanView in Falmouth. For more information about dates and time for these performances, please contact the listed community retirement centers directly.
The band is collaborating with other local communities to perform local concers for their town residents and will post details on dates and times once the band finalizes arrangements. One engagement will have the Maine Pops performing on July 27 at the Cape Elizabeth Village Green, located near the Cape Elizabeth Town Hall, beginning at 6 p.m.
On Saturday, August 6, the Maine Pops will be performing at the Deering Park Bandstand in Portland, part of a 3 p.m. benefit concert in conjunction with the Mountainside Community Church of Falmouth, ME. Donations for this concert will go to supporting the church's efforts to support the homeless in the Portland area.
Information regarding the summer schedule is available on the Maine Pops website at www.mainepops.org, or through its Facebook page at www.facebook.com/mainepops. For questions regarding the band's summer events, contact president@mainepops.org or sbarrett@mainepops.org.