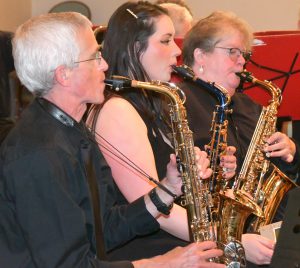 With the completion of its spring concert In May, the Maine Pops Concert Band is now preparing for the 2022 summer concert season. Musicians are continuing their Wednesday night sessions, reviewing music the director has selected from its fall and spring concert performance repertoire; adding a few extra compositions that are favorites of the outdoor season.
As the band continues to emerge from the two-year impact of COVID-19, it is still in need for community musicians to join its ranks and return the band to pre-pandemic numbers. This summer, as the band heads into its 2022-2023 season in September, it is continuing its campaign to bring additional members into the organization.
"Our mission is to support community though concert band music and we continue to play, both virtually and in-person when safe," said Bob Swerdlow, President of the Maine Pops." Now, the Maine Pops needs to broaden its instrumental base by inviting past musicians back and recruit new musicians for the band.
Last season, the band performed most of their concerts with about 50 musicians; good numbers, but far below the 90-to-100 musicians the band had prior to the pandemic. In some cases, Maine Pops musicians retired and relocated away from the Portland area. However, many musicians simply were not ready to rejoin large ensembles to perform indoors – especially those with pre-existing health conditions. Vaccinations and boosters, combined with a general feeling of normalcy, have helped increase numbers, but it now time to reach out and recruit to prepare for the new season.
For now, the Maine Pops still maintains its vaccination requirements for rehearsals and concerts, and abided by COVID-19 policies of each performance venue. This practice is for the safety of the musicians and its audiences. The band was able to safely conduct its fall, holiday, and spring concerts during the 2021-2022, providing the welcomed sound of live musical performance to Portland-area audiences. As policies and requirements change regarding COVID-19, the band will adjust to abide by those guidelines.
The Maine Pops Concert Band accepts players of all nationalities, creeds, ages, and occupations. The band is always looking for new members. Interested musicians need not audition, but the band expects new members to be proficient in their selected instrument. Currently, there are specific needs for flute, clarinet, trumpet, and trombone, but welcomes all musicians who play standard concert band instruments to join.
Applicants can go online at: https://docs.google.com/forms/d/e/1FAIpQLScP3bTxIxXAODR3c2DWK3BqZKORLgqgR6M0cGZfIL5wxfrVjA/viewform, or they can download a printable form https://drive.google.com/file/d/10zpsmmfonxXMu4O_L1YWHfthPafeBEpd/view and submit their registration at a rehearsal.
If interested in becoming a Maine Pops Concert Band performer, please email Bob Swerdlow at president@mainepops.org.
The Maine Pops is a 501(c)3 educational non-profit corporation. Donors can mail their tax-deductible donations to Laura Merten, Treasurer, Maine Pops Concert Band, 72 Harbor Place, South Portland, Maine 04106.