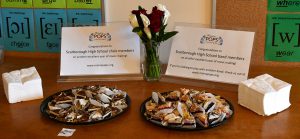 The performance season for Scarborough High School's music department is nearly complete. Only a performance on June 11 at the school's graduation ceremonies remain. The high school band and chorale had their last public performance on May 31 at a very successful spring concert.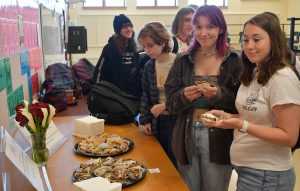 To congratulate the musical students at Scarborough High for their school year accomplishment, and to thank the school for their support of the Maine Pops Concert Band efforts throughout the 2022-2023 season, the Maine Pops provided a selection of bakery treats from "On The Vine" in Scarborough to the music faculty and students on June 1.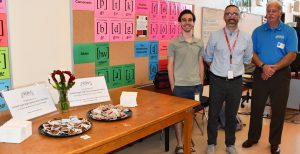 Maine Pops board member and clarinetist Rick Wacksman led the effort, delivering the mid-morning snack to band director Tim Ebersold and chorale director Jeff Mosher. The snacks were greatly appreciated by all the students, who stopped by the school's rehearsal suites during advisory period and before each class. Between 80 and 100 music students enjoyed the treats.
Both Ebsersold and Mosher sent their sincerest thanks to the Maine Pops Concert Band for its generosity and friendship as musical partners within the Scarborough community.
(All photos are by Steve Barrett.)