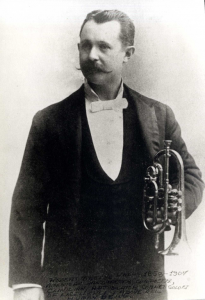 Members of the Maine Pops Concert Band will be joining with musicians of Biddeford/Saco's Alumni Band to host special massed performance in observance of R.B. Hall Day on Saturday, June 25, beginning at noon at the annual La Kermesse Festival in Biddeford.
In a joint memo to members of each band, Maine Pops President Bob Swerdlow and Alumni Band President Kathye Martin said, "We could not let the year go by without a celebration of Maine's own March King, Robert Browne Hall." Invitations were sent to musicians in both bands, and to other Maine community bands for the opportunity to perform in Biddeford to observe and honor the contributions of Hall.
The last Saturday in June every year is officially Robert Browne Hall Day in the State of Maine. Traditionally, community bands throughout the state meet in a central location for the annual R.B. Hall Day festival. The COVID-19 pandemic had forced cancellations over the past three years, including 2022. In 2021, the Maine Pops recruited musicians from 31 bands based in five states to virtually perform Hall's "New Colonial March," released on the last Saturday of June, 2021.
Robert Browne Hall - usually known as R. B. Hall - was a leading composer of marches and other music for American wind bands. A principal American composer of marching music, he was born in Bowdoinham, Maine and seldom left his native state during his lifetime. However, his music has traveled around the world. He is particularly popular in the United Kingdom, so much so that many lovers of brass band music there mistakenly imagine that Hall is an English composer.
His celebrated march, "Tenth Regiment March", written in 1895 and dedicated to the Tenth Regiment Band in Albany, New York, is a well-known staple of brass band concerts and competitions all over the UK, under the title "Death or Glory".